&nbsp

3 First-Time Manufactured Home Buyer Mistakes to Avoid
The decision to purchase your first home is one of the most important, life-changing decisions you'll ever make. Understanding the key factors in how to buy a new, modern manufactured home — and avoiding common mistakes — will make your experience much more enjoyable, and result in your purchase of a home that truly meets your needs, desires, budget, and lifestyle.
Before you unlock the door to quality, affordable manufactured home ownership, we suggest you take some important, cautionary first steps. The following are three common mistakes first-time manufactured home buyers should avoid.
#1 – Not Taking The Time to Research Manufactured Housing and How It Meets Your Wants and Requirements
The more you know about manufactured homes, how they're built, and the steps involved in buying one will go a long way towards helping you make decisions that will enhance your enjoyment of your new home.
Most home shoppers have an idea of what they want in a home, but they're unsure a manufactured home will meet their vision of what a home should be. Most shoppers don't realize that many manufacturers will allow home buyers to customize a home to meet those same exact expectations and desires.
Settling for a retailer's display model, as opposed to ordering a home that's custom built for you, is a sacrifice you don't have to make. There should not be an appreciable price difference between a display model home and a factory-ordered home that's custom built to your desired specifications and style.
The internet has dramatically changed the way people shop for everything, and in 2018, this even includes new homes. Now, folks and families shopping for a new manufactured home can acquire all of the information they need to make an informed and confident home buying decisions, including cost and financing, from the comfort of their own home. In fact, most home shoppers — 80%, in fact — discover their dream home online before meeting face-to-face with a retailer.
The preeminent website for all things manufactured homes is here at ManufacturedHomes.com. Here, you can review thousands of manufactured homes available across the country, including floor plans, construction specifications, and hundreds of 3D virtual tours, and obtain custom price quotes from competing retailers in your area. You can also browse our resources section, a comprehensive selection of informative articles packed with information and knowledge you'll find helpful in your journey towards homeownership.
To learn more, read our blogs — Decor Tips and Equipment When Ordering Your Manufactured Home and Manufactured Homes: The Affordability Factor.
#2 – "Putting the Cart Before the Horse" — Choosing A Manufactured Home Before Confirming a Placement Site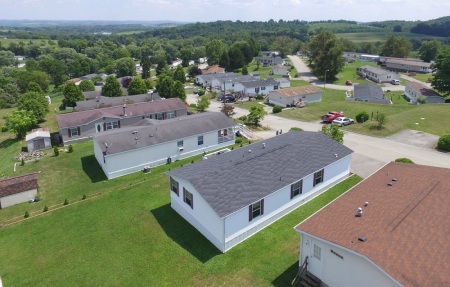 Whether your home site will be in a manufactured home community or on private land, it's vital that the home you select will meet placement conditions—legal and otherwise.
If the home is to be located in a rental community (mobile home park), it's advisable you secure the site to guarantee it's available when your home ships from the factory. Both yourself and your home must also meet the community's rules and requirements for tenancy.
About 70% of new manufactured homes are sited on rural property, which involves a variety of pre-delivery site preparation and placement requirements that vary by state, county, and municipality. Before you commit to the purchase of a new home, it's essential to ensure the home will meet all regulatory restrictions and conditions of placement at the site you choose.
For more information about home placement, read our blogs — Finding Land For Your Home: Pitfalls to Watch Out For and Selecting A Site For Your Manufactured Home.
#3 – Not Obtaining Lending Pre-Qualification Before Entering Into Contract to Purchase
It isn't unusual for first time manufactured home buyers to begin the process of purchasing their home before knowing the amount of financing available for the purchase.
Financing can be the most confusing aspect of the manufactured home buying experience. However, numerous options for financing manufactured homes exist, with programs designed around where and how your home will be located and installed.
The best way to eliminate the anxiety associated with home financing is to make contact with a lender, and provide them with some basic information to secure a pre-approval or pre-qualification. This may be available from a bank or lending institution in your local community. However, the most likely source of lending will be online — from a lender focused specifically on and specialized in manufactured home financing.
Here at ManufacturedHomes.com, you can search for lenders from across the country who specialize in manufactured home financing, specific to your geographical location—enjoy, and happy trails on your journey toward owning a beautiful new manufactured home!