&nbsp

2015 Tunica Manufactured Home Show: Called "A Resounding Success" by Dealer Attendees
The Tunica Manufactured Home Show in Mississippi has being going strong for 17 years and remains the leading manufactured housing industry event in the nation.
The long running Tunica Show held March 25-27, brings together manufactured home professionals from across the country that include retailers, manufacturers, suppliers, services, developers and community owners. The sharing of technology, information, and seminars are instrumental in the ongoing growth and innovation that continues to evolve in the manufactured housing industry.
This year's Tunica MH Show was managed by Dennis Hill at Show Ways Unlimited and was sponsored by the Mississippi and Alabama Manufactured Housing Associations. Dennis Hill did a extraordinary job with the organization of events, particularly considering the change of venue as a result of the Harrah's properties being shuttered since last year's show. Dennis Hill is to be commended for his outstanding success in putting this venerable event together in a relatively short period of time, resulting in an across the board increase in attendees and displays

The manufactured housing industry continues to create homes that address the need for high value quality housing and services that match the needs and desires of today's American homebuyer. In reviewing the new technologies rolled out during the Tunica Home Show that displayed 85 homes of various square footage and styles, it's easy to see how manufactured housing might fulfill that uniquely American dream of homeownership. And how manufactured housing could very well become a welcome reality for the new millennial market sector. Retailers (read: dealers) were particularly pleased and impressed with the variety of features, floor plans and the available customization options at the 2015 Tunica Manufactured Home Show. Dealer input to the manufacturers based upon customer preferences is a critical element to the success of manufactured home acceptance. The homes displayed at the Tunica Show was proof positive that the industry is listening to those home buyer requests. The retailer consensus was that the Tunica Show was an overwhelming success and that manufacturers were continuing to produce homes that today's sophisticated home buyer will gladly embrace. The multitude of customization options and plethora choices allowed the modern manufactured home buyer to have a superior quality home, built exactly to their personal requirements, and at a price that's well within their budget. Excited by the new manufactured home models displayed, the dealers were pleased at what they saw and learned at the 2015 Tunica Manufactured Home Show, and were enthusiastic to get home and translate that information into new clients. Here at ManufacturedHomes.com we were pleased to once again attend and participate in the Tunica show and will be reviewing model home floor plans and videos of several homes that have garnered an extra amount of positive response from the show's retailer attendees.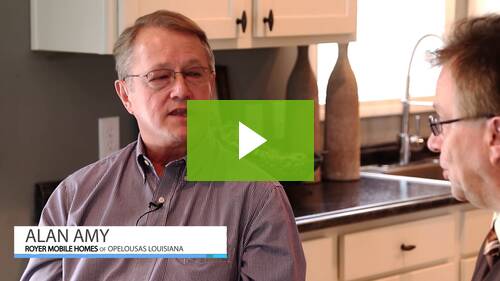 center>